Follow @kollywood Today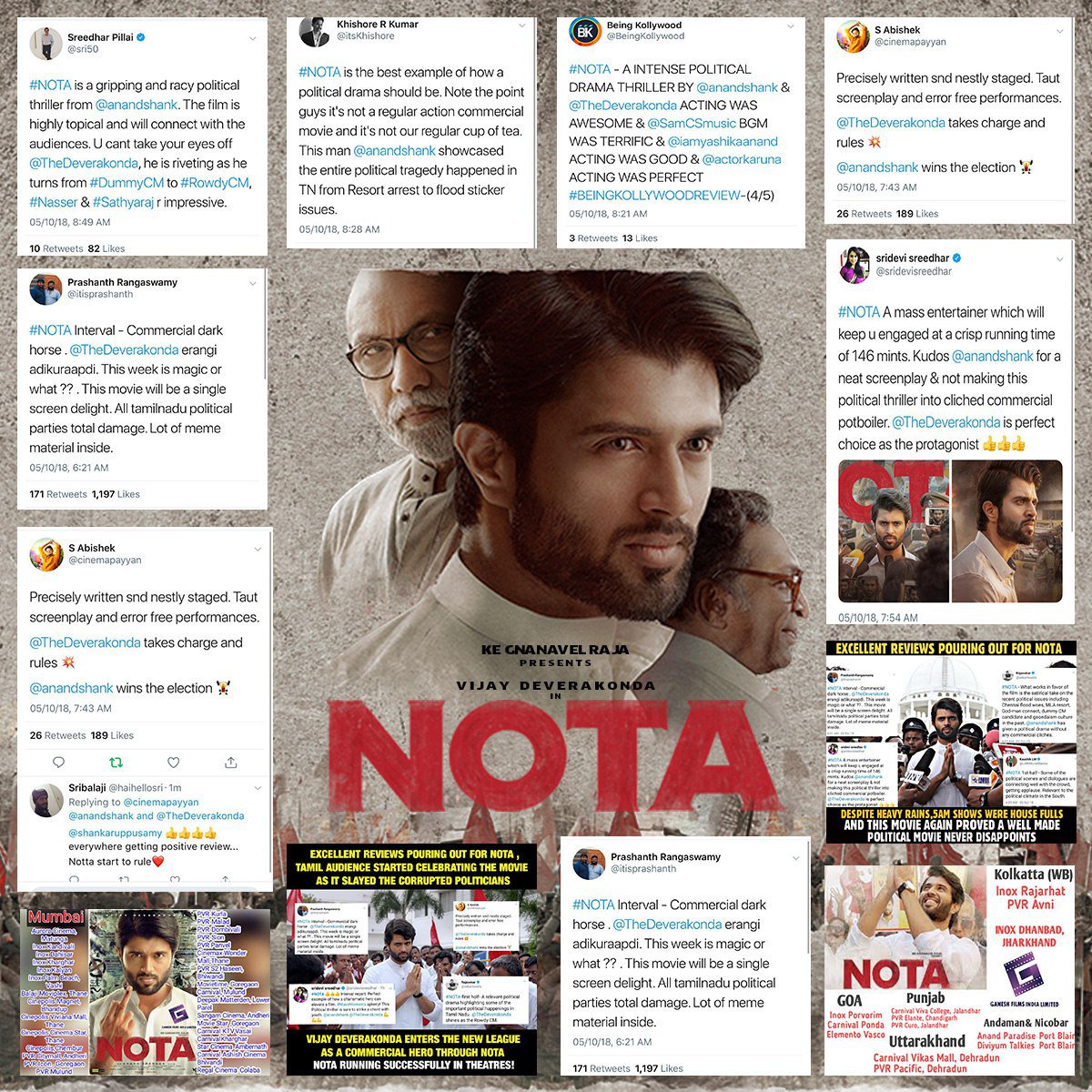 NOTA is a Tamil/Telugu bilingual movie starring Vijay deverakonda and Mehreen Kaur Pirzada in prominent roles. It is a drama directed by Anand Shankar with Sam C. S. as the musician, forming part of the crew.
Nota is the step to Kollywood for Vijay deverakond, But seems like not a good entry for him
NOTA Public Review & Reaction
#nota, After a thriller like irumurgan , Director Anand Shekar pairs up with Vijay Devarakonda for a political thriller ,let's see how it is . Story : In some unexpected conditions Varun aka Vijay gets into politics ,why and what are the conditions ,how does he handle them is the story. Analysis :Since movie is bilingual and director is assistant to murgadas ,movie is totally influenced by politics in Tamilnadu , first half has a good pace upto 10-15 mins post interval after that pace drops a bit , defenatily there are some good dialogues and some engaging moments ,but climax looks abrupt and antoganist needs more elevation. Performances :#vijay has done good job , mehren role is limited , Sathyaraj and Nazar were awesome , #yashika is good and looks like she got more role than heroine , Priyadarshi is ok in his role. Highlights: First half , background score by Sam cs , dialogues Drawbacks , songs in first half are like speed breakers , little bit lag in narration in 2nd half Vijay Devarakonda fans and political games interested people can give it a try.
Title is NOTA, but there is no relation between the title and the story. It's father and son related story. Completely a bouncer to his career
Good TAMIL Nadu current situation...fun full to watch the scenes little bit slow on 2 portion of the movie and climax scene is good finish . Overall the movie is nice to watch with friends.
waste movie it's not a political movie, it's learning of video game movie, Waste story, Waste character, Love you Vijay anna. Good love you Vijay anna